We are a team of researchers and communicators with an entrepreneurial mindset, global exposure and a strong sense of ethics.
Our combined experience spans banking, chemicals, consumer goods, hospitality, media, telecom and transportation sectors.
We have a deep understanding of client businesses and invest in our relationships before expecting a return on our efforts and expertise.
A Lens On Relationship Management
Relationships start with conversations, for that you need to create a connect with your target audience.

You need to listen with care and empathy to get their issues, concerns, needs and requirements on board. Then analyse the context, the pathways to delivery, barriers if any, to identify key priorities and draw up an action plan.

You respond based on the above analysis, for which you've listened carefully, while having ongoing conversations with your target audience. Now you've begun to close the loop.

Your audience is now ready to listen to you. And you're ready to promote your brand, your initiatives, your relationship model and your business goals.

You ask for feedback to assess the impact and make course corrections wherever necessary, to keep the relationship on track. And you continue to listen…
Customer Profiling/ Segmentation
Know your customer, define your target audience, identify their basic characteristics.
You can use demographic variables like age, gender, ethnicity to understand who is your customer. You can segment them by usage behaviour or attitudinal characteristics. This helps you tailor your offering and customise your messaging for best results.
Where is the starting point of your interaction with the customer, which is the point of fulfillment and how do you close the feedback loop.
From visibility through advertising to merchandising at a retail point, from ordering online to getting in touch with telephone customer service, the customer has many opportunities to get exposed to your brand and experience your product/ service delivery. If you wish to influence the customer, convert her to your brand and retain her with a competitive offering, you need to know where. Thus mapping.
A/B Testing & UX Research
After knowing who is your customer, where does she interact and how, you need to know what.
What works for her, what doesn't. Knowing her preferences, A or B or maybe a yet to be offered C. Optimising your product/ service delivery requires testing the options and assessing their respective performances. Your decision-making depends on testing and your business depends on your decision-making.
But you're not alone, you're in a market with many competitors vying for a share of customers, share of business.
You need to assess competitive offerings as much as you do your own. You need to benchmark, you need to set your targets so that your brand has an edge over competition. Thus performance analysis for your initiatives needs to be conducted not just in absolute terms, but also relative to competition.
In a dynamic environment, especially in today's uncertain markets, you need to know now and you need to know often. Thus tracking.
Tracking your brand, tracking your competitors, tracking the overall market lets you prepare for the ups and downs. Your inventory, your spends, your staffing, your fund-raising, all depends on advance planning. And the trends will not be visible unless you capture multiple datapoints sequentially and in a comparable format.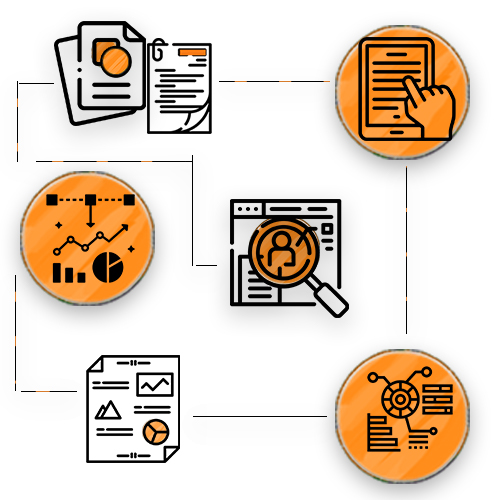 ---
---
Customer Experience & Loyalty Assessment
The customer loyalty assessment was conducted with great attention to detail and produced valuable insights that have enabled us to better understand our customer base and identify areas for improvement. The team was professional, responsive and delivered a comprehensive report that was easy to understand and use. Overall, I would highly recommend Chetna KS to anyone looking to gain a deeper understanding of their customers and improve their business performance.
Andreas C, Vice-President CX Analytics
Readership & Content Research
The benchmarking study before the broadsheet relaunch and the post-launch evaluation were instrumental in improving our newspaper's content and presentation. The team's approach of interviewing both readers and editors during the study design stage provided a comprehensive understanding of news production and consumption. Their expertise in research and analysis was remarkable, and the detailed report with actionable insights was highly valuable. We wholeheartedly recommend Chetna KS to any business seeking to fine-tune their media and marketing strategy.
Rupak A, Head of Media Marketing
State of Employability: ITES
Chetna KS provided us with a comprehensive report on State of Employability in IT Industry. The analysis included multiple dimensions, including language proficiency and analytical skills, and the results were effectively categorised. This approach made it easy for recruiters to reference and evaluate candidate skills. The team was highly professional and delivered a detailed report with actionable insights to improve our recruitment process. I highly recommend their services to anyone looking to assess and enhance their organisation's talent pool.
Avneet B, AVP HR & Skills Development
---
Have a project in mind?
Let's get to work.