We leverage our research capabilities and rely on our industry experience to achieve your communication objectives.
We focus on trust and transparency to build reputation and create value for your stakeholders.
Your B-2-B customers/ clients, the vendors/ partners in your value chain and the community including investors- we cover them all.
---
Customer Experience = Customer Journey + Market Journey
Conventionally the customer journey maps the touchpoints on the route managed by your organisation, even though we know that the customer continues the journey in the broader market. A much longer and complex route, involving numerous interfaces and interactions beyond your control.

Our challenge therefore is to track the customer throughout the CXI cycle of customer+market journey, instead of limiting our view to the proverbial tip of the iceberg. Thus create more opportunities to learn about the customer, plan our interventions and design our communication.

Maybe not control but along the way we can strongly influence customer perceptions to remain salient, gain positive mindshare and expect profitable outcomes.

BTW numerically CXI translates to 111- our view of prioritising the three stakeholder groups all at once!
White Paper & Research Reports
Information and insights presented in a professional and easy-to-understand format.
Present your data and findings to stakeholders, communicate complex ideas to your target audience, in a clear and concise manner. We collaborate with you to deliver a well-written and informative document that effectively communicates your message.
Data Visualisation & Infographics
Custom infographics and data visualisations for presentations and reports.
Convey detailed information in an easy-to-understand, visually appealing manner. We help you enhance your data and communicate your ideas through the use of infographics and data visualisations.
Case studies to showcase your products, services and expertise to potential clients.
Create a compelling story that demonstrates the value of your offering to key stakeholders. We work with you to understand your objectives and target audience, to craft high-quality case studies.
Detailed buyer personas for effective sales strategies, product development and targeted marketing campaigns.
Develop comprehensive buyer personas for your business, understand their needs, expectations and behaviours. We help you gather data on your target audience and use that to create detailed profiles of your ideal customer(s).
Professional, high-quality eBooks that effectively communicate your message to your target audience.
Showcase your expertise and thought leadership to potential clients, investors and other industry players. From concept development to final design, we offer a range of services to produce eBooks that help you share your knowledge and experience.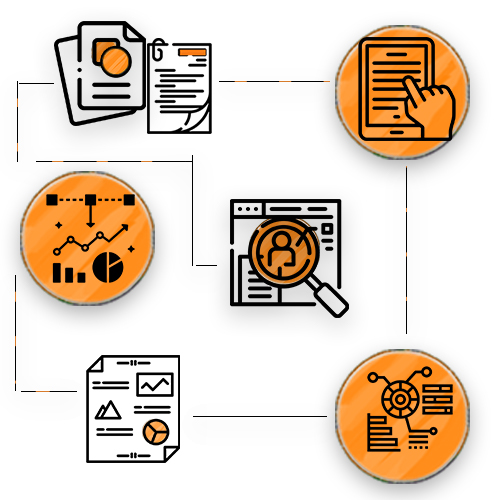 ---
---
Customer Experience & Loyalty Assessment
The customer loyalty assessment was conducted with great attention to detail and produced valuable insights that have enabled us to better understand our customer base and identify areas for improvement. The team was professional, responsive and delivered a comprehensive report that was easy to understand and use. Overall, I would highly recommend Chetna KS to anyone looking to gain a deeper understanding of their customers and improve their business performance.
Andreas C, Vice-President CX Analytics
Readership & Content Research
The benchmarking study before the broadsheet relaunch and the post-launch evaluation were instrumental in improving our newspaper's content and presentation. The team's approach of interviewing both readers and editors during the study design stage provided a comprehensive understanding of news production and consumption. Their expertise in research and analysis was remarkable, and the detailed report with actionable insights was highly valuable. We wholeheartedly recommend Chetna KS to any business seeking to fine-tune their media and marketing strategy.
Rupak A, Head of Media Marketing
State of Employability: ITES
Chetna KS provided us with a comprehensive report on State of Employability in IT Industry. The analysis included multiple dimensions, including language proficiency and analytical skills, and the results were effectively categorised. This approach made it easy for recruiters to reference and evaluate candidate skills. The team was highly professional and delivered a detailed report with actionable insights to improve our recruitment process. I highly recommend their services to anyone looking to assess and enhance their organisation's talent pool.
Avneet B, AVP HR & Skills Development
---
Have a project in mind?
Let's get to work.